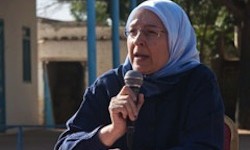 Participation in UUSC connects Allegheny UU to tangible works on a global level. UUSC's two biggest events are Social Justice Sunday in the spring and Guest At Your Table in the fall. Allegheny UU was recognized as a Banner Congregation when we surpassed the threshold of congregants who donated support to UUSC.
Learn more about the Unitarian Universalist Service Committee.
Salma Abugideiri, codirector of the Peaceful Families Project, a UUSC partner, leads a training on gender-based violence in Darfur. Photo courtesy of UUSC.org.