Stress Management : Relaxation Response : Calm Focused Attention : Mindfulness Skills
Tuesdays from 11am-Noon at Unitarian House, 1110 Resaca Place, North Side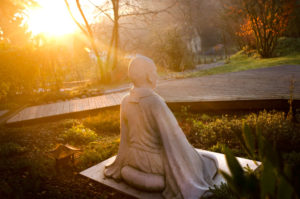 In this weekly rotating series, lasting eight sessions, Dr. Richard King facilitates mindfulness exercises to reduce stress, build awareness, and develop resilience. You practice focusing attention on the sensations of breathing and learn how this mindfulness exercise brings about a state of physiological relaxation in minutes. This skill is sometimes called "the relaxation response," and can be help reduce stress, maintain health, and build emotional wellness. It's also helpful in support of intentional habit change. You practice a variety of exercises including belly breathing, focused attention mindful breathing, body scan, mindful walking, mindful eating, and thought watching.
The goals for Mindfulness (sometimes referred to as "Heart-fulness") include building skills for emotional resilience, stability of attention, and peak performance. Mindful breathing and yoga are healthy exercises for focusing attention and producing calm. Routine practice of these skills is like having an emotional seatbelt. Just like knowing how to brush teeth is important for good dental hygiene, knowing how to become calm and restful is important for emotional wellness. Mindfulness exercises, practiced daily, build life skills for balance, resilience, self-regulation, and focused attention.
For more information contact Dr. Richard King at <kinggaines@comcast.net>.