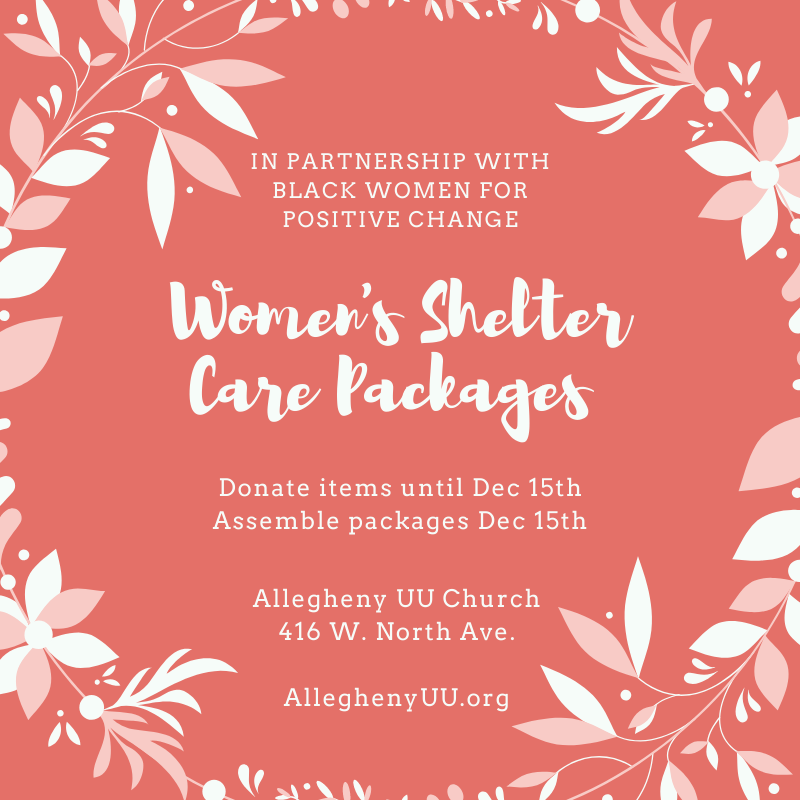 One of the more egregious holiday myths is that domestic violence increases during this season. Myth though it may be, we know that for survivors, domestic violence knows no season. The need is always with us.
Our current Justice Partner, Black Women for Positive Change, has invited us to join them in helping serve the North Hills Women's Shelter by providing "care packages" for women and their minor children who are escaping domestic violence.
Here's what you can do:
Bring care package items to church between now and December 15.
Be there December 15 to help put together the care packages along with Black Women for Positive Change.
Pray for the families and for peace in our homes.
Invite your neighbors and friends to do all or any of the above.
Allegheny will be hosting a "care package collection" event Sunday, December 15, after church, of all the items we collect.
Items to put into the care packages include:
blankets
baby bibs
diapers
gift cards (especially for McDonald's & Target, etc.)
underwear
deodorant
adult coloring books
flip-flops
baby wipes
ear buds
wash cloths
There's always something to do. And there's always a way to help.