Join us to create compassionate justice grounded in spiritual community! Here's some of what you can do: Put together weekly meals for the street homeless. Make and serve a monthly dinner at a local men's shelter. Advocate for things like public transportation and against things like gun violence. Bring a food donation on Sundays. Place some money in our Sunday collection plate which we'll share with a worthy justice partner.
If you're looking for ways to get involved, share your gifts, and serve the common good; you've come to the right place. Here are some specific opportunities to get involved. Our Justice League coordinates our justice work, contact them at <justice at alleghenyuu.org>.
A new legislative session is underway with unprecedented support from faith communities for the PA Legislature to pass HB/SB 300 during the 2015-16 session. Although the bill has not yet been officially introduced, with 60 bi-partisan co-sponsors and the support of over 600 faith leaders from 20 denominations in the state, this may be the tip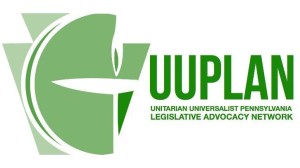 ping point we need to pass this important legislation! Governor Wolf has been clear, "Send me a bill. I want to sign it."
The Unitarian Universalist Pennsylvania Legislative Advocacy Network (UUPLAN) is asking for thoughtful, engaging letters in support of this non-discrimination law. Let both your State Senator and State Representative. know that you Stand on the Side of Love and believe that all residents of our state should be treated equally. Ammon Ripple, Faith Organizer for Equality PA, will soon hold a conference call with Unitarian Universalist ministers to discuss ways that they can help to move this legislation. Personal stories are powerful, and you can help to build the momentum by sharing yours . Stories can be sent to <aripple at equalitypa.org> and will be posted at Campaign for Fairness.
The Unitarian Universalist Pennsylvania Legislative Advocacy Network represents more than 6,000 Unitarian Universalists in the state, and works with and for them to embrace, articulate, and advocate for goals of social and environmental justice.
Equality PA is the commonwealth's leading organization advancing equality and opportunity for lesbian, gay, bisexual, and transgender (LGBT) Pennsylvanians.