Join us to create compassionate justice grounded in spiritual community! Here's some of what you can do: Put together weekly meals for the street homeless. Make and serve a monthly dinner at a local men's shelter. Advocate for things like public transportation and against things like gun violence. Bring a food donation on Sundays. Place some money in our Sunday collection plate which we'll share with a worthy justice partner.
If you're looking for ways to get involved, share your gifts, and serve the common good; you've come to the right place. Here are some specific opportunities to get involved. Our Justice League coordinates our justice work, contact them at <justice at alleghenyuu.org>.
A great way to start Thirty Days of Love! The 18th Annual Summit Against Racism, hosted this year by the Metro-Urban Institute and the Black and White Reunion at Pittsburgh Theological Seminary, will provide a forum for discussion about the current state of race relations in the U.S., what we have learned so far, and pathways to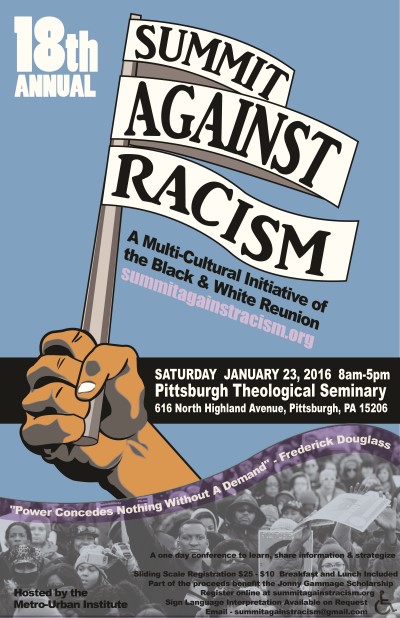 deeper understanding, healing, and social action. Mark your calendar for Saturday Jan 23 from 8am until 5pm. UUs have been a regular presence at this gathering and we hope we'll have a strong turnout again this year. Regular registration is $25/person. You can list your organization as the "UUs of Greater Pittsburgh" to register at the group rate of $10/person, or pay somewhere in between. No one turned away for lack of funds! Registration fees also support the Jonny Gammage Scholarship. Breakfast and lunch included. More info: summitagainstracism.org.