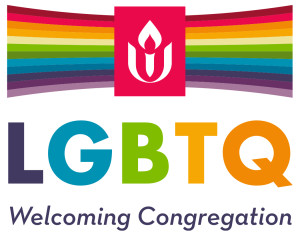 Allegheny Unitarian Universalist Church was recognized as a Welcoming Congregation by the Unitarian Universalist Association in 2007. This is a voluntary program for Unitarian Universalist congregations that want to take intentional steps to become more welcoming and inclusive of people with marginalized sexual orientations and gender identities. Since its launch in 1990, over two-thirds of our U.S. congregations and almost all of our Canadian congregations have been so recognized. Through this process, congregations educate themselves about LGBTQ issues and work to make themselves safe and supportive religious homes for people of all orientations – welcoming for everyone!
Allegheny Unitarian Universalist Church has long supported local efforts promoting LGBTQ awareness and equality. In 2004 we called Rev. David McFarland, Pittsburgh's first openly gay minister. As the closest Unitarian Universalist congregation to downtown Pittsburgh, in 2008 we began a special Pride Day tradition of a breakfast, early worship service, and a shuttle bus to the Pride March, which encouraged UU's from Pennsylvania, Ohio, and West Virginia to break bread, worship, and march together. We continue to support and provide leadership for the Pride Day activities and other LGBTQ justice work.
Read more about the Unitarian Universalist Association's commitment to LGBTQ equality.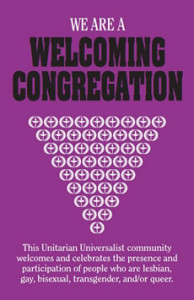 .